Thursday, April 10, 2008
Isn't This Cool? (Thursday Thirteen #11)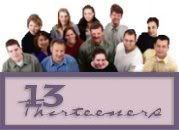 Now over where I live is summer and it is pretty hot. Where some of you live, maybe summer too. Those of you who love the beach might love this too. So to those who love the beach, this is all for you.

1) Here's a nice piece of engineering and construction and the locale is JAPAN.
2) Here's the exterior shot of the building. Note the surrounding area . . . mountains, sea shore, golf course, residential area.
3)


4) What do you think is inside this building?
5)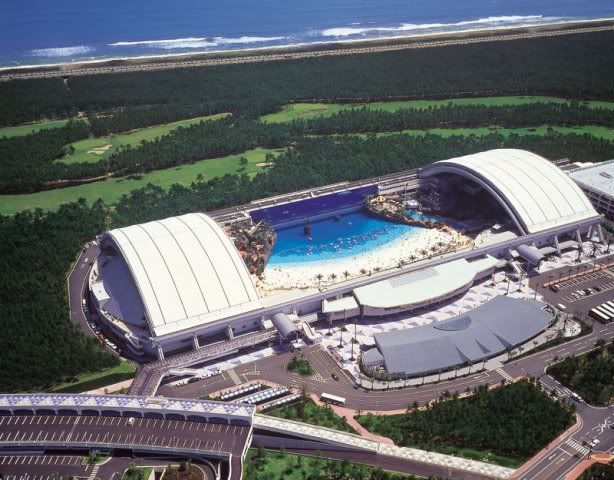 6) It's the O C E A N D O M E
7) The roof is retractable.
8) The SURF'S UP . . .rain or shine!
9)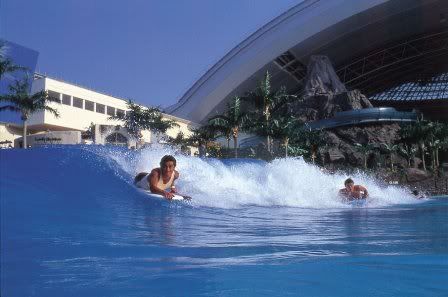 10) When the roof is closed, you still get blue sky and puffy white clouds.....
11) Imagine a beach where the sky is always blue, it's never too hot or cold, the water isn't filled with salt and pollution, and the surf is always perfect - welcome to Ocean Dome, the world's only indoor beach.


12) Ocean Dome has its own flame-spitting volcano, crushed white marble "sand", and it also boasts the world's largest retractable roof, providing a permanently blue sky.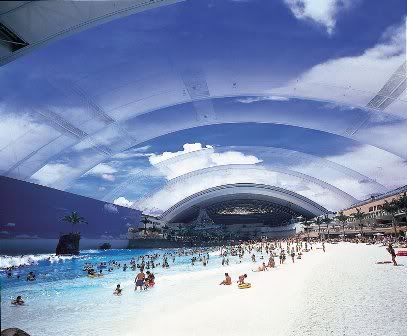 13) Temperature, wind and humidity are closely controlled to provide an ultra-safe "sea-side" experience. Every hour, the volcano erupts and the hi-tech wave machines start up, starting a few minutes of sanitized surfing.
Entrance cost is US $50 per person, which seems especially expensive given that there is a free, natural beach only 300 meters away.
Get the Thursday Thirteen code here!

The purpose of the meme is to get to know everyone who participates a little bit better every Thursday. Visiting fellow Thirteeners is encouraged! If you participate, leave the link to your Thirteen in others comments. It's easy, and fun! Be sure to update your Thirteen with links that are left for you, as well! I will link to everyone who participates and leaves a link to their 13 things. Trackbacks, pings, comment links accepted!

View More Thursday Thirteen Participants

Thursday Thirteen Tag
Posted by Cheerio :: 6:46 AM :: 27 Comments: