Sunday, January 20, 2008
Fruit Pickers Beware!
Fruit pickers beware! That red berry might actually be an infested ant's rear end.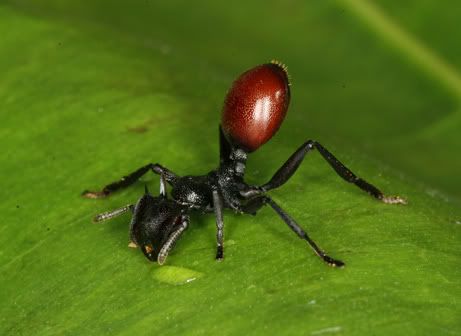 This tropical ant of the species Cephalotes atratus is infected with a parasitic roundworm that makes its bulbous rear end, called a gaster, look like a juicy red berry. Researchers believe the parasites transform the gasters to trick foraging birds into eating the ants. Birds poop out parasite eggs, allowing the worms to spread to new ant colonies. "These ants, in nature, go out and collect bird feces," explained study leader Steve Yanoviak, an insect ecologist at the University of Arkansas in Little Rock. The finding is the first known example of fruit mimicry caused by a parasite, he added.
If you're interested to know more
or you can click on the photo.
Posted by Cheerio :: 9:22 AM :: 4 Comments: